Use TRUETYPE FONTS in WEBPAGES!
---
ARIAL came with your Windows
COURIER came with Windows
TIMES NEW ROMAN came with Windows
WINGDINGS (see next line) came with Windows
abcdefghijklmnopqrstuvwxyz
---
The following fonts DIDN'T come with Windows, so...
GET these TrueType FONTS ( FREE ) ( zipped files ),
INSTALL them, and take another look at this page!
---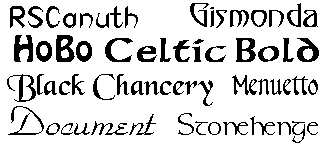 Download your choices from names below:










---
If you're reading this in a NewsGroup or mail message,
Come VISIT Wicca Works: http://rio.atlantic.net/~wiccan
---
Email Ed Howdershelt & WICCA WORKS!
---
Back to Main